I had a discussion with a friend the other evening about the true reasons behind the Civil War. He raised a few good points that really got me thinking about how most Americans see the Civil War and how it is taught to the younger generations in school.
It has always been said that the victors get to write history while the vanquished have to take a back seat ride on the demoralization bus. For instance, take a look at Germany in both World Wars. Surely you can see that Germany was given the raw deal as a result of their loss in 1918. Not only was Germany doomed to accept full responsibility for starting a conflict which brought about the deaths of millions of Europeans and thousands of Americans and also the millions in damages caused across the front lines of France and Belgium, but with that stipulation came the never ending barrage of slanted histories of the deadly 4 year war and the events leading up to it. Clearly the public education system has found it too difficult to correct these false accounts of the war, hiding behind claims that the history leading up to WWI is too complicated for young children. It's easier to make idiots out of our young generation.
When we look to Germany in WWII....well they get the shaft for a reason. The point is, there are numerous opportunities to write history from the other side. I'm not even talking about writing neutral accounts (if there is such a thing). However, if someone were to attempt a history of WWII through the eyes of Nazis and Germany offering justifications or explanations as to why things happened the way they did, that action would be seen as heinous, disgusting and downright deplorable; the historian chastised forever, an act of career suicide for sure. HOW DARE YOU SUPPORT THE NAZIS! YOU MUST BE A RACIST SKINHEAD! Thank you PC society...
Anyhow, back to the topic at hand: The Civil War. So, for the past 140 years, it's been shoved in our faces and down our throats that the North engaged the South for the purpose of destroying slavery. Oh yeah, and that States' Rights thing, but don't worry about that kids, it's not important. Surely a liberal agenda, however they won't admit to it (*cough*even though PC stems from that*cough*). Being a 12 year old kid in school, told and expected to believe everything and anything the teacher throws at them, they swallow it without much question. I'll try not to hold it against teachers seeing how they put more work towards education during the college years in New York than they do in the subject they will be teaching. That's still not an excuse though.
If we look to the facts, New York and Pennsylvania were still offering up Slave Schedules on their 1840 Census and there were still cases of Slaves in New Jersey up until 1860. However, looking back at history, we should expect nothing less of the Great White North with their Puritan background. It's in their blood to hold double standards, correct? We can ask the Native Americans if you want to dispute that. Anyways, with this evidence and while retaining the old idea that slavery was the main focus, we have to believe that the North was acting as the great moral voice for the entire western world in calling for an end to slavery while still retaining traces of the dirty deed themselves.
What strikes me as interesting is that so many people would be capable of believing that so many men joined the Union Army to bring about an end to Slavery. My 4th Great Grandfather stepped up to volunteer with the 76th New York Volunteer Infantry in 1863. At this time his older brother had already been killed at Fredericksburg and his father contracted numerous illnesses while evading capture at Antietam which eventually contributed to his death, it is hard for me to believe that one man would be so eager and willing to lay their life on the line for people who were seen as a lesser kind after all of this. Yes I did just say that and it wasn't only the South who held bad feelings towards blacks after the war. The accounts of conditions during the war are vivid and you can bet your ass, a whole lot more vivid for those who were standing right there as it happened. There is nothing pretty about seeing a fellow soldier torn to literal shreds by grapeshot, or having their leg shattered by a miniball, only to be amputated. The stories of limb piles, wounded men being eaten alive by wild hogs, they go on and on. People were aware of these stories, I find it very hard to believe that men would be so willing to face this. If you were a widow, told your husband fought to free slaves, would you hate the Southerners who shot him or the people who allegedly were the cause for the war in the first place?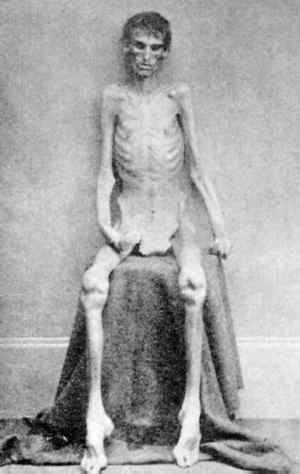 A Malnourished Soldier from Andersonville
If we take a closer look at States' Rights, it is possible to ascertain that slavery WAS a part of the war cause but NOT because the North wanted to abolish it. What if slavery fell in as a State Right that the South was trying to retain. If the North is entering the war for the purpose of preserving the Union, there is no real way to say that the Civil War was fought for the purpose of stopping slavery. Instead, it was a bloody conflict fought over the political ideas of State vs. Federal Rights.
I am also intrigued by the idea that abolitionists could state that the Declaration of Independence declared all people as equal, however the same document stated that the people had the right to "alter or abolish" a government when it destroys the unalienable rights of its people. This in no way shape or form is to say that I condone slavery, but if some Southerners right to life and happiness stemmed from using slaves to grow crops on plantations, wouldn't the abolition of slavery destroy those rights? We also have to remember that a small, very small percentage of Southern Whites actually owned slaves. It was not something that was affordable for all southerners to engage in. Southern Plantation owners were such a small minority, despite what we have been told in school or despite how pre-Civil War Southerners are depicted in texts and images. How many of these rich plantation owners do you think took up arms on the front lines to engage Union soldiers? Sure, many of the Confederate Officers were from the aristocratic gentry class, but it was the poor farmer who rented his lands and had no slaves who held the rifle and charged the bayonet.
So, are we to believe that the governing bodies of both the North and South used the poor lower classes as pawns in war? Are we to believe that the large number of lower class citizens allowed the governing bodies to exploit them in war games? Or was there something going on, far more complex and meaningful to the entire country, something other than slavery?